Take One Picture Gallery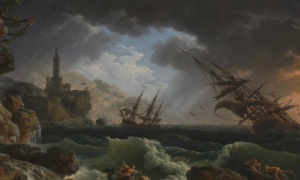 We are very pleased to invite you to our Take One Picture gallery Thursday 16th June!
Take One Picture is an event that I look forward to every year as the children produce some fabulous art work and it's such a lovely way for the children to be expressive.
This year The National Gallery have chosen 'Shipwreck on Stormy Seas' by Claude-Joseph Vernet as their focus painting and the children have really enjoyed exploring this 'moody' piece.
The gallery will be open in the hall from 3.15pm until 6.00pm and all are welcome to attend. If you are able to, please complete one of our review forms to share your views about the gallery as we use this feedback as part of our application to the gallery- I would really love for our work to be selected this year. If successful, the children's work will be displayed at the National Gallery in London as part of their Take One Picture exhibition.
Look forward to seeing you there!