2018-2019
Pupil Premium Spending – 2018-19
We have 8 children eligible for Pupil Premium Funding, out of the school total of 152. Which means that 5.3% of the school are eligible for this funding. (6 children by the end of the year)
We have been allocated £9,240 for the year.
Our aims in managing this funding.
· To spend the money wisely to ensure that any gaps in progress and attainment between socially disadvantaged pupils and their peers are closing.
· To clearly identify socially disadvantaged pupils who may be at risk of under achieving.
· To provide early intervention and support for all socially disadvantaged pupils.
· To ensure that socially disadvantaged pupils achieve or exceed age related expectations and that the vast majority achieve in line with their peers.
· To provide effective support for pupils, parents and families to ensure that children are ready to learn every day.
· To have effective systems in place for identifying those pupils eligible for pupil premium and for tracking the progress they make as a result of interventions.
· To regularly monitor and review the effectiveness of our spending and to share this information with parents, Governors and staff.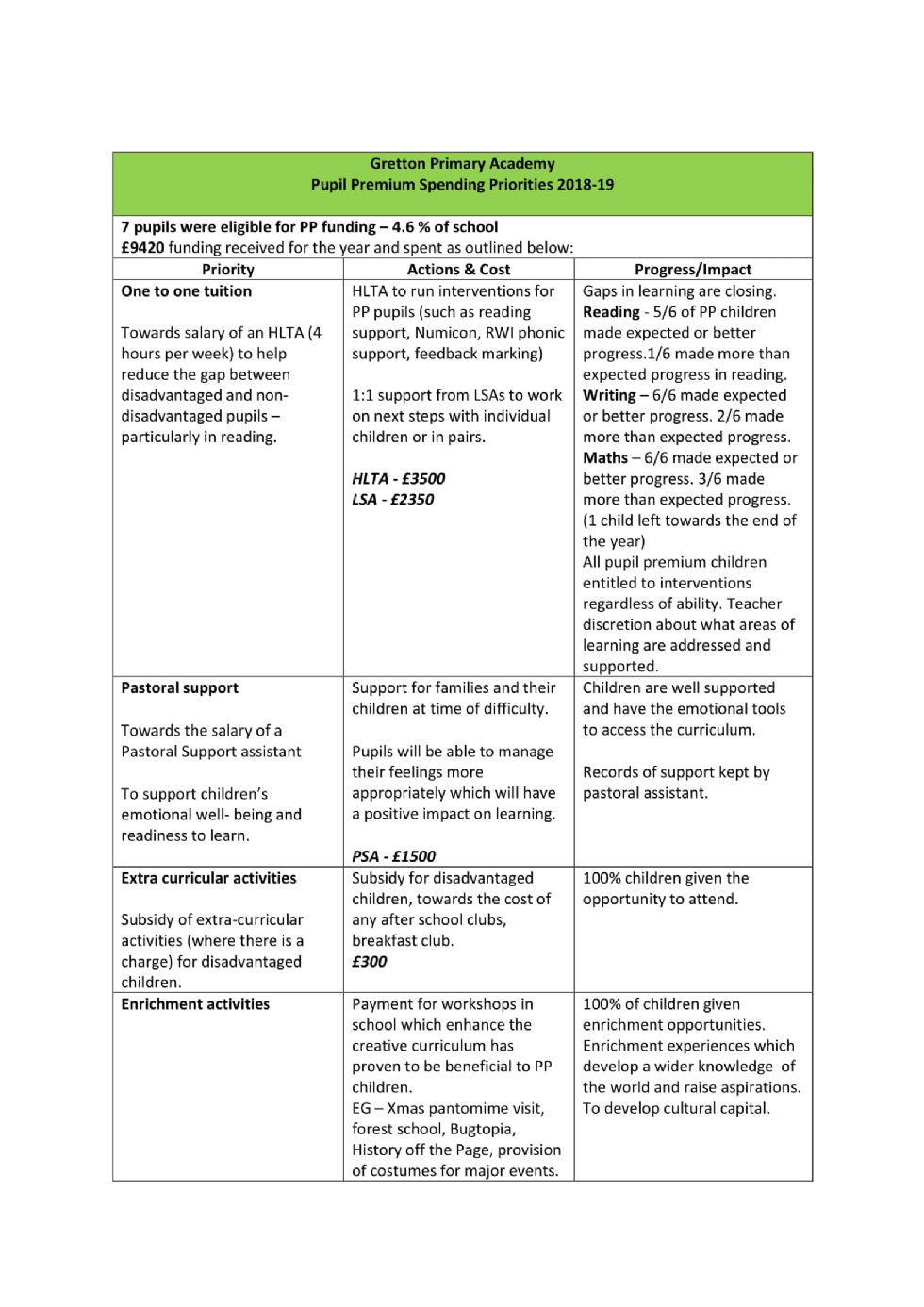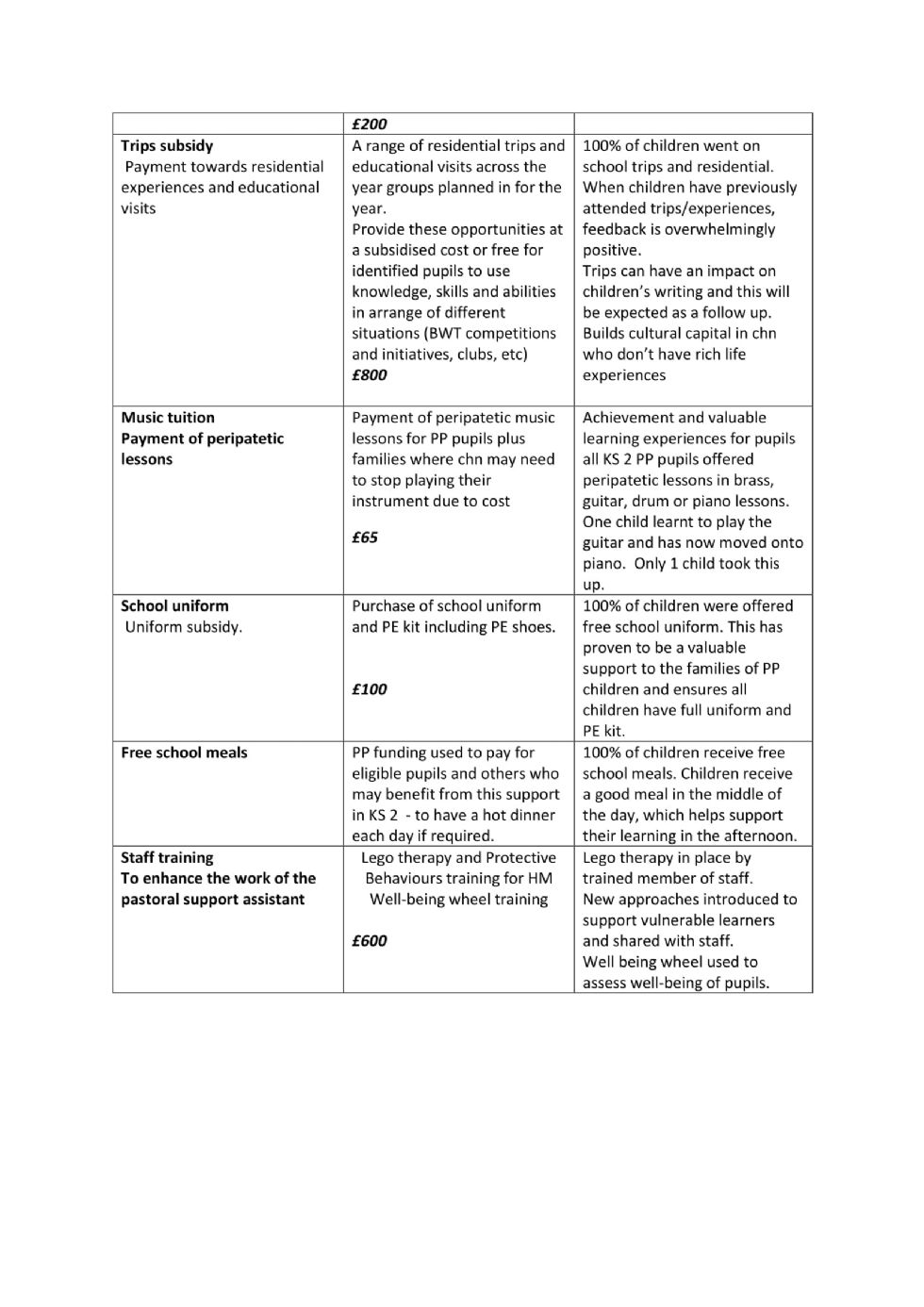 Impact statement
In 2018-19 we had 6 children (4%) eligible for pupil premium funding. The data shows that:
Progress
· 5/6 – 83% of PP pupils made expected or better progress in Reading. 1/6 made more than expected progress.
· 6/6 - 100% of PP pupils made expected or better progress in Writing. 2/6 made more than expected progress.
· 6/6 - 100% of PP pupils made expected or better progress in Maths. 3/6 made more than expected progress.
Attainment
· 3/6 – 50% of PP pupils met age related expectations in Reading
· 4/6 - 67% of PP pupils have met related expectations in Writing
· 6/6 - 100% of PP pupils have met age related expectations in Maths
Barriers to achievement faced by eligible pupils.
Barriers that typically face some of our pupils include:-
Financial constraints in accessing a wide range of cultural experiences and out of school activities. This may impact on language acquisition, oracy and vocabulary development which can inhibit progress in reading and writing.
Social and emotional difficulties requiring pastoral support in school.
Some of the eligible pupils have specific learning needs and are working below the expected standard for thier age so require learning support to close their gaps in learning.
How the impact of this work measured:
By using assessment data to evaluate academic progress following interventions
By evaluating a range of qualitative data relating to pupil well-being and curriculum enrichment provision
Schools are given a pupil premium for:
· Children who have qualified for free school meals at any point in the past six years.
· Children who are or have been looked after under local authority care for more than one day.
· Children from service families who receive a child pension from the Ministry of Defence.
Am I eligible to apply for pupil premium funding for my child?
Your child's school may be entitled to pupil premium funding if you receive one of the following benefits:
Income Support
Income Based Job Seekers Allowance
Child Tax Credit Only (with income up to £16,190) with no element of Working Tax Credit
National Asylum Seekers Support
Guarantee Element of the State Pension Credit
Employment and Support Allowance (income related)
Universal Credit (income dependant)
Who can I speak to about Pupil Premium funding?
Mrs Young and the Principal, Mrs MacDonald are responsible for managing Pupil Premium Funding. Your child's class teacher will be able to explain how we are using the funding to support individual children and the office staff can offer advice on how to apply for this funding if you think you may be entitled to it.
Date of next review of pupil premium strategy:
June 2019